Last Updated on December 25, 2022 by Pat Ugwu II
It is no longer news that the invention of the internet has turned the world into a global village. People can now work, study, socialize, and attend meetings and events from the comfort of their homes. This causes many businesses to go online, and many organizations seek for online presence.
Developing a website for online presence is one thing and hosting your website for the public to see all over the world is another thing. This is the reason we are taking a review of QServers hosting capabilities in Nigeria. Read how to start a blog with WordPress.
In this post you will learn about web hosting if you are totally a novice in this regard, you will also learn how to choose a hosting company both locally and internationally. Our focus is on QServers as a Nigeria hosting company. For your international hosting standards, I will recommend you use WP Engine for web hosting.
Those seeking to make a decision on what web hosting company is perfect for their blog or website will be certified after reading this post. Alternatives to QServers web hosting companies will be x-trays so as to help you make an informed decision in choosing your web hosting company in Nigeria.
In writing this QServers review, I may get a small commission if you click through the affiliate link. But my sole goal is to help you make a wise decision in choosing your hosting company in Nigeria.
What is Web Hosting?
So let us, first of all, understand what Web Hosting service is. According to Wikipedia:
A web hosting service is a type of Internet hosting service that allows individuals and organizations to make their website accessible via the World Wide Web. – Wikipedia.
This means that your content like your lesson note, images, videos, and other materials you have on your computer needs a hosting company that will hold those content and serves it to the entire globe. This will make your content available and accessible all over the world. There are different types of web hosting offered by servers and of course by other web hosting companies. They are Shared Hosting, Dedicated Hosting, VPS Hosting, and Cloud Hosting. Learn more about types of web hosting from Bluehost.
Past Hosting Experiences
As a user, I have used different hosting both in Nigeria and Abroad to host this particular site you are reading now. I actually started with a foreign hosting company known as Webbly but could not renew my site after one year, the renewal fee was very huge.
It is down on me that the first-year payment is just for me to join them, it was actually a marketing strategy. So I looked for a local hosting company, and I tried out about two or so. The first was Web4Africa, a fine and beautiful web hosting company of that year.
But when their customer growth began in higher numbers, my site started experiencing downtime, people would call me to tell me how they intended to use my site but were not reachable. It was a hard pain for me as my site had started getting relevance and more page views.
I told a friend what I was experiencing, and he promised to help me, he told me he can host my site for me, I obliged and paid him. The worst happened, my site will not be up half of the day, it was a weekly experience. I didn't know that my friend place my site in one of the shared hostings he bought as a reseller.  It was not a good experience.
Then I made up my mind that I won't use a local hosting company again, and I moved my site to GoDaddy, from there to Bluehost, in search of a cheaper solution that will give me certifiably uptime. The last two hostings I mentioned are good but I paid heavily. As a new business, my budget could not carry their fees. I continued searching until I found out about QServers.
QServers Hosting Review
QServers is a Nigeria-based Web Hosting company that provides affordable and strong web hosting services. Their goal is to set a new standard for shared, VPS, and managed dedicated server hosting. The goal was to provide our clients with a superior managed hosting environment for our clients through customer service, innovative network design, a unique suite of services, and the latest technological advances in server hardware. A managed hosting environment that not only supported our clients at all levels but also provided true value.
When I discovered QServers and read reviews about them just as you are reading now. The user said they have a better experience hosting with the hosting company. One of the things that stands out about QServers is their Uptime. They have up to 99.9% uptime.
This way, you will never notice downtime on your website. So I left Bluehost and migrated to QServers and started hosting with them. What impressed me first was their customer support, they have a chatting feature where you can have live interaction with their staff. In some cases, you will be asked to open a ticket, and before you could wake up in the morning, they have responded to your query.
Cost
The cost of hosting a website with QServers Nigeria Hosting Company is affordable. Going by the features and qualities of services you are going to get. Some of the foreign hosting companies may not even guarantee the type of uptime you will get from QServers.
This is a very good option for teachers and schools who want to start their online teaching. A .com.ng domain can be gotten for free for one year if you are buying a hosting space from the company.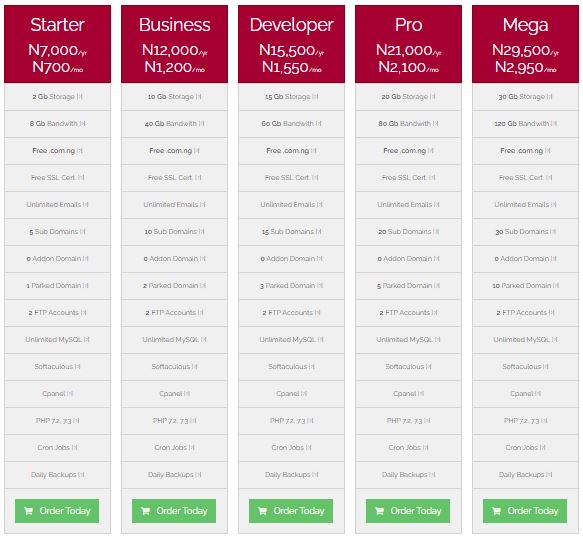 Uptime
As I have mentioned before, QServers has been faithful in terms of uptime, since I moved my site and started hosting with them, I have never received a call that my site is not reachable. According to a blogger who moved from WhoGoHost to QServers:
Having experienced downtime from other hosting companies ourselves, both for our personal projects, and for client projects, we can't help but appreciate the uptime we enjoy using QServers.net. They have also been awarded. – Koodu Creative.
This is one selling point that makes QServes keep winning.
Support
It won't be too much if I say that QServers support team is world-class. They have different teams on different issues like billing, payment, technical, and so on. When you are opening a ticket, you will have the option to choose who you will like to attend to you. Within 24 hours, you will receive a response and a possible solution. I consider it top-notch.
Other Nigeria Hosting Companies
There are of course other good hosting companies in Nigeria. Especially now that technology continues to advance. Many of them have been said to be good at what they do. Some of them are Whogohost, SmartWeb.com.ng, Domain King, and so on.
What Users Hate
Personally, I have not had a bad experience with QServers. Except when one of my hostings expires, they said I will have to pay money to retrieve the files after paying for renewal. In another QServers review, I read a user saying that their account was suspended because someone reported one of their accounts with a fraudulent act. The user claims that other of his account that was not involved were all suspended. QServers has come to say that they have zero tolerance for fraud.
Verdict
In my own opinion as a user, and someone who has developed and hosted many websites and blogs in Nigeria. QServers has proven to be a reliable web hosting company with excellent services. Try out QServers Web Hosting for yourself today and you will be happy you did. Meanwhile, if your business has grown and you will like to start with a foreign web hosting company, go ahead and do so. For your international hosting standards, I will recommend you use WP Engine for web hosting.
Final Thoughts
QServers is a good web hosting service in Nigeria. Providing fair downtime that will help business owners to succeed in doing business online.
Now that you are through reading this QServers review, it is your turn. Have you used QServers Nigeria Web Hosting Company? Go ahead and tell us what you feel by using the comment box below. I will be happy to hear from you. For your international hosting standards, I will recommend you use WP Engine for web hosting.
Please use the comment section below to ask your question or share your view. Consider joining our Facebook Group to meet with other great teachers who are interested in EdTech. Also, subscribe to this blog by email and through our YouTube and Telegram Channels to receive regular EdTech updates.